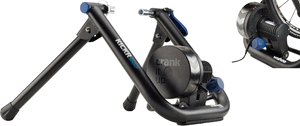 Wahoo Kickr Snap
KICKR SNAP
Agony! Now available in a wheel on design. Snap makes it easy to turn your regular road or mountain bike into a powerful indoor SmartTrainer. Made from heavy duty stainless steel and featuring wide stance, SNAP is designed to keep its feet firmly planted on the floor and your bike securily locked in so you can train with confidence. Like KICKR, SNAP uses your smartphone, tablet or computer to control resistance and provide a reliable power measurement so you can monitor and adjust your intensity

Key tech, compatibility and specs:
- Wireless Technology: ANT+ / Bluetooth 4.0
- Devices: iOS / Android/PC (Mac/Windows)
- Resistance Type: Electromagnetic
- Increase in power accuracy form 5% down to 3%
- Addition of LED status indicators
- Expanded power matching support
- Slightly increased manufacturing tolerances
- Wireless Software Updates: Yes
- Metrics: Speed / Distance / Power
- Wheel Size: 24", 650c, 700c, 27.5", 29"
- Hub Types: 130 mm, 135 mm
- Front Wheel Block: Included
• Open Platform: Built on an open APT, allowing 3rd party developers to create innovative training experiences
• Power you can feel: SNAP is designed around a heavy, high inertia flywheel that replicates the inertia felt when cranking up or down the open road
CLIMB COMPATIBLE
• KICKR CLIMB (183524-01) was designed jointly with the new KICKR and new KICKR SNAP Smart Trainers to deliver the best possible riding experience
• By pairing the CLIMB to the new KICKR you will experience real ascents and descents while riding along with virtual courses and performing structured workouts
• Weight: 20 kg
---
---
More from this collection